Savor the Seasonal Vibes of the Fall Menu at Crimson Cup Coffee Houses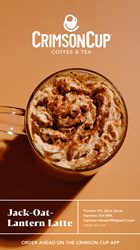 "We invite coffee lovers in Columbus and Tallmadge, Ohio to sample three fresh drinks: Jack-Oat-Lantern Latte, Ube Latte and Red Dragon Lemonade," – Regional Coffee House Manager Amber Raffeld

COLUMBUS, Ohio (PRWEB)
September 23, 2021
The seasonal drink menu at Crimson Cup Coffee Houses captures the essence of fall in a cup, with a series of fleeting sensations available for a limited time.
"The first day of fall is the perfect time to introduce our seasonal menu," said Regional Coffee House Manager Amber Raffeld.
"We invite coffee lovers in Columbus and Tallmadge, Ohio to sample three fresh drinks: Jack-Oat-Lantern Latte, Ube Latte and Red Dragon Lemonade."
A fun new take on the ubiquitous pumpkin spice latte, the Jack-Oat-Lantern Latte features Crimson Cup's award-winning Wayfarer Blend espresso.
Sweetened with a fragrant syrup of cinnamon, nutmeg and clove spices, blended with pumpkin and steamed oat milk, and topped with house-made espresso whipped cream, Jack-Oat-Lantern takes PSL to a fresh new level.
Crimson Cup's Ube Latte offers a unique twist on a traditional Thanksgiving treat. Ube, a distinctive purple yam used in Philippine desserts, has a mellow flavor. Ube blended with espresso and milk tastes like sweet potato casserole in a cup.
Red Dragon Lemonade helps the taste of summer linger into the warm days of autumn. Shaken with dragon fruit and citrus, this gorgeous red-colored lemonade is as refreshing as a tropical sunset.
The drinks are available at Crimson Cup Coffee Houses at 1441 North High St. in Clintonville, 2468 Northwest Blvd. in Upper Arlington and 116 Tallmadge Circle in Tallmadge, Ohio.
While supplies last, 12-ounce Jack-Oat-Lantern and Ube lattes sell for $4.25. A 20-ounce Red Dragon Lemonade costs $4.25.
About Crimson Cup Coffee & Tea
Columbus, Ohio coffee roaster Crimson Cup Coffee & Tea is celebrating 30 years of Coffee + Community. Since May 1991, Crimson Cup has roasted sustainably sourced craft coffee for consumers and wholesale coffee customers. It is a 2020 Good Food Award winner, 2019 Golden Bean Champion for Small Franchise/Chain Roaster and Roast magazine's 2016 Macro Roaster of the Year.
Through its 7 Steps to Success coffee shop startup program, the company teaches entrepreneurs to run independent coffee houses in their local communities. By developing a coffee shop business plan, entrepreneurs gain insight into how much it costs to open a coffee shop.
Crimson Cup also supports life-enriching projects through its Friend2Farmer® initiatives, promoting the education, health, sustainability and economic growth of small-plot coffee farmers and their communities.
Crimson Cup coffee is available through over 350 independent coffee houses, grocers, college and universities, restaurants and food service operations across 30 states, Guam and Bangladesh. The company also operates several Crimson Cup Coffee Houses and a new Crimson retail flagship store. To learn more, visit crimsoncup.com, or follow the company on Facebook and Instagram.

Share article on social media or email: