How TMNF has reshaped the strategy for Car Insurance Online for customers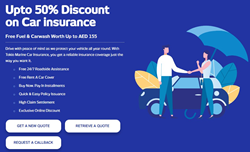 TMNF has various packages that are catered to each person's financial liability.

DUBAI, United Arab Emirates (PRWEB)
September 20, 2021
TMNF has achieved the position in being one among the Best Insurance Company in UAE, and it is all because of how they handle and interact with their customers. Tokio Marine Insurance reciprocates all their existing features and services into their online portal. As this is the era of Digital Market, TMNF has always been one step ahead of its competitors. Gone is the era where we resorted to insurance brokers and agency, now it is the time where we get all the information to our fingertips.
This new portal has options for customers to select various insurance schemes pertaining to Car Insurance Dubai, Online Car Insurance and even Home Insurance Dubai. Their easy to use interface has paved the way for the decision making pathway for their customers. Insurance is something that we all seldom look upon, but is of grave importance when unforeseen circumstances occur.
Among many Car insurance Companies in Dubai, what makes Tokio Marine insurance stand out is their outlook on how to protect their customers. They take the extra step in ensuring that they put their needs of the customers before themselves. Let's take for example Auto Insurance, the customer can easily visit their online portal, choose among the various options mentioned, pertaining to their car type, model and furthermore details and with a click of a button, you have gotten your premium insurance scheme with Tokio Marine Insurance.
How to regain your insurance claim with companies is what people often refer to as a tedious task. By being bombarded with a heap load of paperwork makes the customers journey to their claim tiresome. Tokio Marine Insurance has changed the strategy for Online Car Insurance procedures, when an accident occurs, all we need to do is call Tokio Marine Insurance's customer care which is available 24/7 and our highly professional team will guide you the process in regaining your claim, its easy as it is.
So the next stop shop for Home Insurance Companies or Car Insurance Companies in Dubai, or any other insurance schemes Tokio Marine Insurance is the answer to all your questions.
Share article on social media or email: