Business Operations – In the Midst of a Pandemic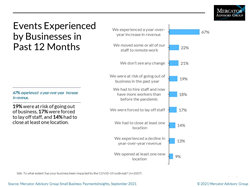 BOSTON (PRWEB)
September 23, 2021
Mercator Advisory Group's most recent Small Business survey report, 2021 Small Business PaymentsInsights: Business Operations – In the Midst of a Pandemic, from its annual Small Business PaymentsInsights series, examines all aspects of the small business experience, including the management of business operations, tapping into critical resources as channels of support, and building relationships with financial institutions.
The report is based on an online small business survey administered between June 9th and July 16, 2021, across 2,007 U.S. Small Businesses with 2020 annual revenue between $100K and $10 million. The report also provides insight into how small businesses bank and pay for goods and services, their banking relationships, view of technology, and their top business concerns.
"Although small businesses have been hit hard by the pandemic, they continue to demonstrate resilience in the face of what at times seems to be impossible odds. Concerns about cash flow continue to exist. Many, who lack personal financing to help run their businesses, take advantage of small business loan programs and other credit options to survive yet keep an optimistic outlook as they align their business operations with their support team of banks and financial advisors." – Amy Dunckelmann, Vice President, Research Operations, Mercator Advisory Group.
Highlights of the 2021 Small Business PaymentsInsights: Business Operations – In the Midst of a Pandemic Report:


Managing Cash Flow

COVID-19 Loan Programs

Looking to the Future – Post Pandemic

Business Operations

Choosing a FI (Bank)

Business Credit

Deposit and Loan Services

Installment Loans

Accounts Payable / Receivable

Payroll Services
This report is 78 pages in length and contains 47 exhibits.
For more information and media inquiries, please call Mercator Advisory Group's main line: 1-781-419-1700, send an email to [email protected]
For free industry news, opinions, research, company information, and more, visit us at http://www.PaymentsJournal.com.
Follow us on Twitter @ http://twitter.com/MercatorAdvisor.
About Mercator Advisory Group

Mercator Advisory Group is the leading independent research and advisory services firm exclusively focused on the payments and banking industries. We deliver pragmatic and timely research and advice designed to help our clients uncover the most lucrative opportunities to maximize revenue growth and contain costs. Our clients range from the world's largest payment issuers, acquirers, processors, merchants and associations to leading technology providers and investors. Mercator Advisory Group is also the publisher of the online payments and banking news and information portal PaymentsJournal.com.
Share article on social media or email: